Wet n Wild Prime Focus Impossible Primer
Wet n wild impossible primer is mattifying and hydrating. It is oil free and non comedogenic. Wet and Wild impossible primer is suitable for all types of skin like oily like oily and acne prone skin.
Hydrating and mattifying shine control without drying skin
Bouncy silicone-like texture WITHOUT the silicone
Formulated with Jeju Blossom Extract, a natural brightener and moisturizer
Formulated with Gooseberry, which is high in Vitamin C and antioxidants
Wet n wild impossible primer review is very well. It is perfect for everyday wear or special occasions. Wet n wild prime focus the impossible primer also create  a smooth, flawless base.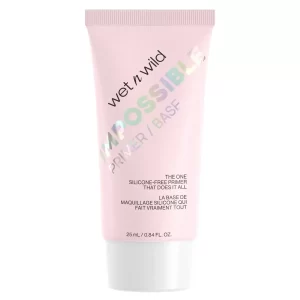 Some benifit of Wet n Wild Prime Focus Impossible Primer :
Smoothing and Blurring: Wet Wild impossible primer often contain silicones or other ingredients that create a smooth surface on the skin. This can help to blur imperfections, fine lines, and pores, providing a more even canvas for makeup application.
Extended Makeup Wear: Wet n Wild primer impossible can create a barrier between your skin and makeup, helping your makeup stay in place for longer periods without fading, creasing, or smudging.
Hydration: Certain primers contain hydrating ingredients that can provide an extra layer of moisture to the skin, preventing makeup from clinging to dry patches.
Color Correction: Some primers are tinted to help correct specific skin concerns, such as redness or dullness. These primers can even out your skin tone before applying foundation.
Enhanced Makeup Application: Wet n Wild impossible primer base is smooth that can make it easier to apply foundation, concealer, and other makeup products evenly.
Minimized Pores: Primers can temporarily minimize the appearance of pores by filling them in, creating a more refined look.
Added Sun Protection: Some primers contain SPF, adding an extra layer of sun protection to your routine.
Non-Comedogenic: Many primers are formulated to be non-comedogenic, meaning they won't clog your pores or contribute to breakouts.
Versatility: Wet n Wild prime focus impossible primer can be used on their own for a natural look or as a base for more elaborate makeup looks.
What is the price of  Wet n Wild Prime Focus Impossible Primer in Bangladesh?
Wet n wild impossible primer price in Bangladesh is ৳ 440.