LA Girl Pro Prep Smoothing Face Primer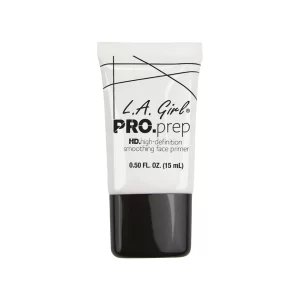 LA Girl pro prep face primer make your makeup last all day.  It is formulated with light diffusing particles and skin nourishing Vitamin E and also this primer gives you a flawless finish on or off camera.
-Lightweight and easy to apply
-Paraben and fragrance free
-Softens skins and enhances makeup
-Helps makeup stay on longer
Benifti of LA Girl Pro Prep Smoothing Face Primer
Smoothing and Pore-Filling: LA Girl Pro Prep Smoothing Face Primer is specially formulated to create a velvety, ultra-smooth texture on your skin. It works to minimize the appearance of fine lines, pores, and imperfections, providing an even canvas for your makeup. Say goodbye to uneven texture and welcome a silky-smooth finish.
Extended Makeup Wear: This primer helps your makeup adhere better to your skin, preventing it from fading, creasing, or smudging throughout the day. Your makeup will stay fresh and vibrant, whether you're heading to work, a special event, or a night out on the town.
Mattifying Effect: The primer offers a subtle mattifying effect, making it ideal for those with oily or combination skin. It helps control excess shine and keeps your skin looking matte and polished.
Hydration and Comfort: Despite its mattifying properties, this primer maintains a comfortable and hydrating feel on your skin. It creates a breathable barrier that keeps your skin moisturized without clogging pores or feeling heavy.
Lightweight and Non-Greasy: The lightweight, non-greasy formula ensures that your skin remains comfortable throughout the day. It won't weigh your skin down or make your makeup feel heavy.
Minimizes Redness: This primer can help reduce the appearance of redness and uneven skin tone, creating a more uniform base for your foundation and concealer.
Smooth Makeup Application: The smooth texture created by the primer allows for easy and even makeup application. Your foundation and other makeup products will glide on seamlessly, resulting in a more polished and professional finish.
Cruelty-Free: LA Girl is committed to ethical beauty practices. Our products are never tested on animals.
User-Friendly Design: The primer is housed in a convenient, easy-to-use tube that dispenses just the right amount of product. It's perfect for incorporating into your daily beauty routine.
LA Girl Pro Face Primer price in Bangladesh ?
The latest price of LA Girl Pro Prep Smoothing Face Primer is 650 tk.