LA Girl Primer Spray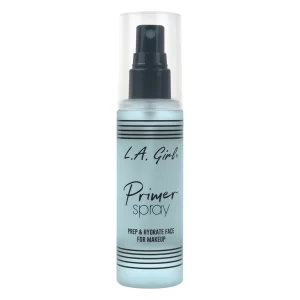 LA Girl primer spray contains glycerin & botanical purslane extract to hydrate & soothe skin. Spray primer before makeup application to prep skin.
Benifti of LA Girl Primer Spray
Prepares the Skin: The primer spray serves as a pre-makeup step that prepares your skin for makeup application. It creates a smooth and hydrated canvas, allowing your makeup to adhere better and go on more evenly.
Hydration: Many primer sprays contain hydrating ingredients that can nourish and moisturize your skin, helping to combat dryness and create a dewy complexion. This is especially beneficial for individuals with dry or dehydrated skin.
Longer-Lasting Makeup: Applying a primer spray before your makeup can help your makeup last longer. It creates a barrier between your skin and makeup, preventing it from breaking down, smudging, or fading throughout the day.
Minimizes Pores and Texture: Some primer sprays are formulated to minimize the appearance of pores and fine lines, creating a smoother and more refined skin texture.
Reduces Redness and Discoloration: Certain primer sprays may have color-correcting properties to help reduce redness, uneven skin tone, or discoloration, providing a more even base for your makeup.
Refreshes Makeup: Primer sprays can be used throughout the day as a makeup refresher. A quick spritz can help revive your makeup, especially if it starts to look tired or worn out.
Sets Makeup: In addition to prepping the skin, some primer sprays also act as setting sprays. They help lock your makeup in place, ensuring it stays put even in humid or hot conditions.
Minimizes Caking and Creasing: Primer sprays can prevent makeup from settling into fine lines and creases, resulting in a smoother and more youthful appearance.
Quick and Easy Application: The spray format makes it quick and easy to apply the primer. You can simply mist it onto your face before applying makeup or as a setting spray after makeup application.
Versatile: Primer sprays can be used with various types of makeup, including foundation, concealer, eyeshadow, and lipstick, making them a versatile addition to your makeup routine.
Cruelty-Free: Many makeup brands, including LA Girl, are committed to ethical beauty practices, and their products are not tested on animals.
LA Girl Primer price in Bangladesh ?
The latest price of LA Girl Primer Spray is 650 tk.