Wet n Wild Color Icon Blush Pinch Me Pink
Wet n wild Pinch Me Pink blush add a natural looking glow to your cheeks. The rich, warm tones meld with your skin seamlessly, providing a radiant, lit-from-within glow that catches the light in the most enchanting manner.
Soft focus effect
Long-lasting, buildable color
Enriched formulas Infused with Jojoba Oil for a silky, smooth texture
Wet n Wild Pinch Me Pink blush swatch
Wet and Wild pinch me pink blush is suitable for all types of skin. It is  lightweight and comfortable to wear.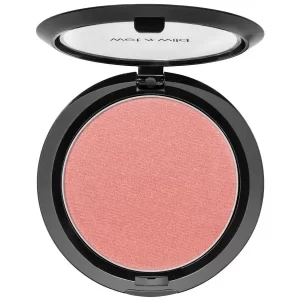 Wet n Wild pinch me pink blush review is very well.
Some benifit of
Wet n Wild Color Icon Blush Pinch Me Pink
Highly Pigmented: Wet n Wild Color Icon Blush Pinch Me Pink shade is known for its exceptional pigmentation. A little product goes a long way, allowing you to achieve your desired level of color intensity with just a light application.
Versatile Shade: The warm wine hue of  Wet n Wild Color Icon Blush Pinch Me Pink is incredibly versatile. It complements a wide range of skin tones, making it suitable for various complexions, from fair to deep. This adaptability ensures that the blush is a go-to option for many individuals.
Natural Flush: The shade mimics the natural flush that appears on your cheeks when you're experiencing a healthy glow or a touch of warmth. This results in a subtle and natural appearance that enhances your complexion.
Buildable Coverage: The formula of the Color Icon Blush allows for buildable coverage. Whether you prefer a sheer wash of color or a more intense and defined look, you have control over the level of pigmentation you want to achieve.
Smooth Application: The finely milled texture of the blush ensures that it glides effortlessly onto your skin. This smooth application minimizes the risk of uneven patches or streaky lines, creating a seamless and blended finish.
Long-Lasting: The impressive pigmentation of the blush contributes to its longevity. Once applied, it stays vibrant and fresh-looking for an extended period, reducing the need.
What is the price of Wet n Wild Color Icon Pinch Me Pink in Bangladesh?
Color icon blush pinch me pink price in Bangladesh is ৳ 440.