LA Girl Hd Pro BB Cream GBB 943 Light Medium
LA girl bb cream fair shade is  light with a warm peach undertone. It is perfect to give your complexion a quick and easy boost. LA girl bb cream is also skin friendly formula, fragrance-free, and paraben-free.
Primes, moisturizes & enhances skin
Sheer coverage BB cream
Added vitamin B3, vitamin C & vitamin E
Sodium hyaluronate for added hydration
Added anti-aging vegan collagen boosting peptide
Fragrance free.
Cruelty-free, paraben-free & vegan.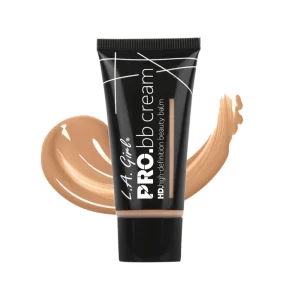 Which BB cream is good?
LA Girl BB Cream, like many other beauty products, may be considered "good" by some people for a variety of reasons, but its effectiveness and suitability can vary depending on individual skin types, preferences, and needs.
Benifit Of  LA Girl Hd Pro BB Cream GBB 943 Light Medium :
Hydration: Many BB creams are formulated with moisturizing ingredients that can help keep your skin hydrated throughout the day. This can be particularly beneficial for individuals with dry or dehydrated skin.
Sun Protection: Some BB creams, including LA Girl Hd Pro BB Cream GBB 943 Light Medium, may contain SPF (sunscreen) to provide a level of sun protection. SPF helps shield your skin from harmful UV rays, which can help prevent premature aging and reduce the risk of skin damage.
Multifunctional: This BB cream can serve multiple purposes, acting as a moisturizer, primer, foundation, and sunscreen in one product. This can streamline your makeup routine, making it quicker and more convenient.
Variety of Shades: LA Girl typically offers a range of shades to cater to different skin tones, including GBB 943 Light Medium. This variety allows you to find a shade that closely matches your complexion.
Affordability: LA Girl products are often priced competitively, making them accessible to a wide range of consumers.
Cruelty-Free: LA Girl is known for being a cruelty-free brand, meaning their products are not tested on animals.
HD Finish: This BB cream is labeled as "HD," suggesting that it may provide a high-definition finish. This can help create a smooth and flawless appearance, especially when photographed or filmed.
LA girl bb cream price in Bangladesh ?
The Latest Price of LA Girl Hd Pro BB Cream GBB 943 Light Medium is 550 tk.