LA Girl Pro Conceal Hd Concealer GC971 Classic Ivory
LA Girl Concealer provides flawless coverage for whole day. You can also use it to contour and highlight, snatching your features.
Lightweight, creamy texture
Long-wearing, crease-resistant formula
Built in, brush-tip applicator
Correct, conceal, contour, & highlight
Ideal for all skin types.
Cruelty-free & fragrance-free.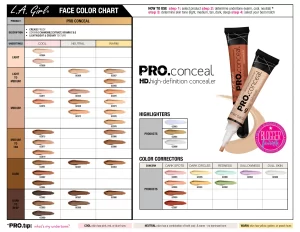 La girl concealer shades are very attractive & also you can buy it at affordable price.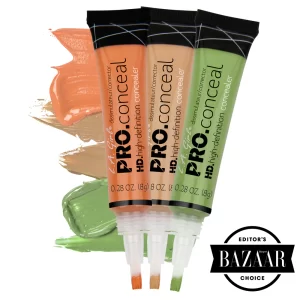 Benifit of LA Girl Pro Conceal Hd Concealer GC971 Classic Ivory :
High-Definition Formula: This concealer is specially formulated with high-definition technology, ensuring that it delivers impeccable coverage and a natural finish that looks flawless both in person and on camera. Say goodbye to imperfections and hello to a picture-perfect complexion.
Multi-Purpose: LA Girl Pro Conceal Hd Concealer GC971 Classic Ivory is a versatile shade that can be used in various ways. It's perfect for brightening the under-eye area, covering dark circles, concealing blemishes, and highlighting key features like your brow bone and the inner corners of your eyes. Its versatility makes it a go-to product for creating a polished look.
Lightweight and Buildable: The LA Girl Pro Conceal Hd Concealer GC971 Classic Ivory has a lightweight, creamy texture that blends effortlessly into the skin. It's easy to layer and build, allowing you to customize your coverage to suit your needs. Whether you prefer a sheer, natural look or full coverage, this concealer has you covered.
Long-Lasting: Once applied, this concealer stays put throughout the day, minimizing the need for touch-ups. It's ideal for busy days, special occasions, or anytime you want your makeup to remain intact.
Brightening Effect: "Classic Ivory" has a brightening effect that helps reduce the appearance of under-eye darkness and tiredness. It instantly awakens your eyes, making you look refreshed and ready to take on the day.
Conceals Imperfections: Whether you have redness, blemishes, or minor skin imperfections, this concealer provides excellent coverage, effectively concealing these flaws and creating a smoother complexion.
User-Friendly Applicator: The concealer comes with a convenient brush-tip applicator that makes precise application a breeze. It allows you to target specific areas with ease, ensuring that you can apply the product exactly where you need it.
Paraben-Free Formula: LA Girl is dedicated to creating products that prioritize the well-being of your skin. This concealer is paraben-free, making it a suitable choice for those who prefer products with fewer synthetic additives.
 Cruelty-Free: LA Girl is known for its commitment to being a cruelty-free brand, which means this product has not been tested on animals, making it a conscious choice for ethical beauty enthusiasts.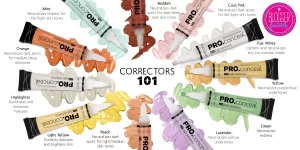 LA girl concealer price in Bangladesh ?
The Latest Price of LA Girl Pro Conceal Hd Concealer GC971 Classic Ivory is 550 tk.