Wet n wild Lash Renegade Mascara Brazen Black
Wet n wild lash renegade mascara give you "bold, bad-ass lashes". Lash renegade mascara is also waterproof.
Lash Renegade mascara in Brazen Black
Color Icon Multi-stick in Nocturnal Behavior
Mega Last Retractable Eyeliner in Blackest Black
Benifit of  Wet n wild Lash Renegade Mascara Brazen Black
 Intense Black Color: Wet n wild renegade mascara "Brazen Black" is the shade of this mascara. It is a rich and deep black, ensuring that your lashes will be noticed from afar. It adds a dramatic touch to your eyes, making them stand out and appear more alluring.
Length and Volume: Lash Renegade Mascara is formulated to deliver both length and volume to your lashes. The unique brush and formula work together to coat each lash, making them look longer, thicker, and more dramatic. You'll achieve a fuller and more lush appearance without the need for false eyelashes.
Precision Brush: Wet and wild renegade mascara features a precision brush with unique, asymmetrical bristle design. This brush allows you to coat even the tiniest and hardest-to-reach lashes, including the inner and outer corners, giving your lashes a fanned-out, bold look.
 All-Day Wear: Wet n Wild Lash Renegade Mascara is long-lasting and smudge-proof, ensuring your lashes stay bold and beautiful throughout the day. You can confidently wear it from morning to night without worrying about smudging or flaking.
 Easy Application: Wet and wild lash renegade mascara glides on smoothly, and its buildable formula allows you to customize your lash look. Whether you want a natural boost for everyday wear or a more dramatic look for special occasions, you can achieve it with ease.
Innovative Formula: This mascara is formulated to be clump-free, so you can apply multiple coats without worrying about your lashes sticking together. The formula is also ophthalmologist-tested, making it suitable for those with sensitive eyes or contact lens wearers.
Cruelty-Free: Like many Wet n Wild products, Lash Renegade Mascara is cruelty-free, which means it hasn't been tested on animals, making it a conscious choice for animal lovers.
Wet n wild lash renegade mascara review is very well by the user of Bangladesh. It is very cheap rate product.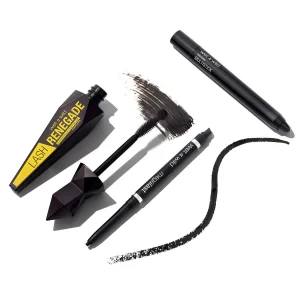 Wet and wild lash renegade mascara price in Bangladesh ?
The current price of Wet n wild Lash Renegade Mascara Brazen Black is ৳750.