Wet n wild Coverall Concealer Palette
Wet n wild coverall concealer palette is a versatile and comprehensive makeup product designed to provide customizable coverage for various skin imperfections. This concealer palette is a go-to solution for individuals seeking to achieve a flawless complexion by effectively concealing blemishes, dark circles, redness, and other skin concerns.
Cruelty free
Green – Eliminates redness
Orange – Hides blemishes
Pink – Combats dark circles
White – For mixing and highlighting
To use the Wet n Wild Coverall Concealer Palette, you would typically start by applying a small amount of your chosen shade(s) onto the targeted areas using a clean fingertip, makeup brush, or beauty sponge. Gently blend the product into the skin until it seamlessly integrates with your foundation or base makeup. Remember to set the concealer with a translucent setting powder to prevent creasing and ensure long-lasting coverage.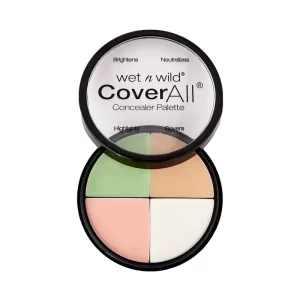 Wet n wild Concealer Price in Bangladesh ?
Wet n wild Coverall Concealer Palette price is ৳ 480 .