Milani Amore Matte Lip Creme Devotion 14
Milani amore matte lip creme is 100% cruelty free.  Milani liquid lipstick has a revolutionary, super-saturated formula that dries to a soft, glamorous finish to give you fuller-looking lips.
Milani devotion swatch
Milani Amore Matte Lip Creme Devotion 14 has double-sided, flexible plush applicator hugs the contours of your lips, working to lock in bold, opaque color. Milani lipstick matte lip cream is non-sticky, smooth and perfect for fearless, all-night wear. Talk about a cream dream. Available in 24 captivating shades, Milani devotion lipstick is the ultimate transfer resistant kiss-me-matte.
Nothing to worry about here no paraben preservatives were used in Milani Amore Matte Lip Creme Devotion 14.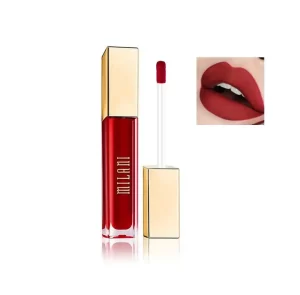 How to Apply Milani Amore Matte Lip Creme Devotion 14 :
Apply our soft matte lip cream to your lips using the included flexible plush applicator. Begin at your Cupid's Bow and apply along the upper lip from the center to the outer edge. Extend to the corners of the mouth and then apply to lower lip. Gently press lips together to smooth and seal in color.
Milani lipstick swatches

Milani lipstick shades
Loved: A classic red shade.
Devotion: A deep berry shade
Precious: A soft, nude pink shade.
Gorgeous: A vibrant coral shade.
Craze: A vibrant fuchsia shade.
Stunning: A deep plum shade.
Adorable: A rosy mauve shade.
Darling: A dusty rose shade.
Sweetheart: A light pink shade.
Lust: A bold, burgundy shade.
How much milani devotion price in bangladesh ?
Milani Amore Matte Lip Creme Devotion 14 price is 1000 tk