LA Girl Pro Color Foundation Mixing Pigment GLM714 Blue
La girl foundation mixing pigment help to shifts foundation to a warmer undertone, ideal for medium to dark foundations.
Customize your foundation shade to match you
Shift undertones warmer & cooler
White, yellow & orange have a soft matte finish
Blue mixing pigment as a translucent, gel formula
Cruelty-free, paraben-free & vegan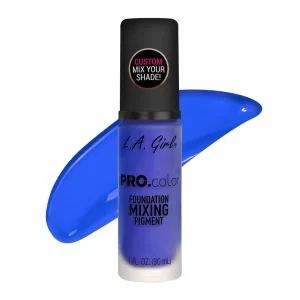 LA Girl Mixing Pigment helps to achiev a flawless complexion tailored to your unique skin tone, all in a convenient and user-friendly package.
Some benifit of LA Girl Pro Color Foundation Mixing Pigment GLM714 Blue :
Custom Shade Matching: The primary benefit of LA Girl Pro Color Foundation Mixing Pigment GLM714 Blue is its ability to lighten and customize the shade of your existing foundations and concealers. It empowers you to achieve a perfect match for your unique skin tone, ensuring your makeup looks seamless and natural.
Versatile Adjustments: This white pigment isn't limited to just lightening your makeup; it's also effective for adjusting the undertone or hue of your foundation. You can use it to make your foundation warmer or cooler as needed to suit your preferences.
Cost-Effective: Instead of purchasing multiple foundation shades to accommodate changes in your skin tone or season, this pigment allows you to adapt your existing products, making your makeup collection more cost-effective.
Seamless Blending: The pigment easily blends with your existing foundation formula without altering its texture or finish. This ensures that your customized blend maintains the original foundation's quality and performance.
User-Friendly: The packaging includes a dropper for precise dispensing, making it easy to control the amount of pigment you add to your foundation. It's a user-friendly solution even for those new to customizing foundation shades.
Versatile Application: While its primary purpose is for foundation customization, "GLM714 Blue" can also be mixed with other complexion products like concealer or BB cream, allowing you to create a harmonious and consistent look across your entire base makeup routine.
Cruelty-Free: LA Girl is known for its commitment to being a cruelty-free brand, ensuring that this product has not been tested on animals. This makes it a conscientious choice for ethical beauty enthusiasts.
Avoid Foundation Wastage: By adjusting the shade of your existing foundations, you can make the most of your makeup products, reducing wastage and ensuring that your favorite products don't go unused.
Adapt to Changing Skin Tones: If your skin tone changes due to factors like sun exposure, season, or skin care treatments, this pigment allows you to adapt your makeup accordingly, ensuring a consistent and natural appearance.
Perfect for Special Occasions: "GLM714 Blue" is particularly handy for special occasions when you want your makeup to be absolutely flawless. It helps you create a custom foundation shade that's tailored to the specific lighting and theme of the event.
LA Girl Foundation Mixing Pigment Price in Banlgadesh? 
The Latest Price of LA Girl Pro Color Foundation Mixing Pigment GLM714 Blue is 1050 tk.