Wet n wild Photo Focus Matte Foundation Soft Ivory
Wet n wild foundation desert beige is suitable for fair to light skin tones. It is lightweight & long-lasting. Wet n Wild Photo focus matte foundation gives you a flawless, camera-ready look.
High-performing, breakthrough formula
Featuring light-adjusting complex to help prevent white cast in photos
Tested under 7 light conditions with and without the use of flash
Wet n wild Photo Focus Matte Foundation Soft Ivory Swatch
Wet and wild Soft Ivory foundation has matte finish and camera-ready formula, this foundation ensures a flawless complexion that looks great in various lighting conditions and photographs.
Wet and wild foundation Soft Ivory is specially crafted to embrace medium to tan skin tones with its warm and inviting undertones.
Benifit of  wet n wild Photo Focus Matte Foundation Desert Beige :
Flawless Finish: It helps minimize the appearance of imperfections and dissimilar skin texture.
Camera-Ready: Formulated to look great in photos and under different lighting conditions, ensuring you to look your best whether it's for everyday wear or special occasions.
Long-Lasting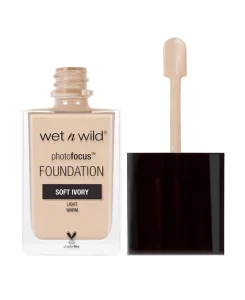 Light-Adjusting Complex: The innovative light-adjusting complex helps prevent the unwanted white cast that can sometimes occur in flash photography, ensuring your skin looks natural and vibrant.
Matte Finish: Get a shine-free look with a matte finish that helps control excess oil and keeps your skin looking fresh.
High-Performing Formula: Benefit from a breakthrough formula that delivers exceptional coverage without feeling heavy or cakey on the skin.
Affordable Quality: Enjoy the quality and performance of a high-end foundation at an affordable price point.
Cruelty-Free: wet n wild is known for its commitment to cruelty-free beauty, making this foundation a choice that aligns with ethical values.
Wet n wild photo focus matte foundation is easy to blend and affordable
What is the price of wet n wild Photo Focus Matte Foundation Soft Ivory in Bangladesh?
wet n wild Photo Focus Matte Foundation Soft Ivory price in Bangladesh is ৳ 950.